Edge Product - The Mini Monster Truck Plans
GOKART BAZAAR·SUNDAY, MARCH 26, 2017
My original review can be found here: https://www.facebook.com/groups/minimonstertruckmadness/permalink/661484240674010/
My personal review and comments on the:
Mini Monster Truck Plans from The Edge Products.
Well being the hesitant one when buying things on the internet,
when it come to Mini Monster Truck Plans, I've haven't seen any actual plans out there for them.
I remembered that one of the members inquiring about the plans from Ebay. I decided to contact the company and requested a sample
of the plans to look over and write this review of them.
Well needless to say i was contacted buy Tony Sanger of The Edge Products, who is the company name of the plans creator
as well as other numerous go karts and buggy plans.
They emailed a copy of the plans. For starters , You will need some basic builders knowledge , as the plans are detailed
and might just confuse the heck out of someone who has never built one before.
The plans are very detailed and covers everything from the frame, tools and equipment needed, Motor and Transmissions, Gearing,
creating the gas and brake pedals and much more.
The plans consist of 85 pages, in a PDF format, and is available for immediate download from eziplans.
These are the only "actual" Mini Monster Truck plans i have seen so far and was impressed by the details in them.
The images are crisp and clear. Now i'm not a builder by no means and when i first looked at the plans, I was a little confused
until i looked them over again and again and started realize how it went together.
If your looking to create a Mini Monster Truck from scratch, these plans might just be for you.

Please note: [Copied from their website ]

FEATURES:

The Mini Monster Truck is perfect for junior drivers looking for off-road thrills in a "looks the part"package.
Suited to drivers aged 7 to14 y/o (with adult supervision), the bullet proof industrial motor and CVT transmission provide
all day enjoyment for any skill level. Underneath the monster truck fiberglass body shell lays a sturdy tubular roll cage protecting
the driver along with a 4-point safety harness.
Steering is easy with the rack and pinion and a powerful hydraulic disk brake providing ample stopping power.
As simple as it is tough, the Mini Monster Truck is a great build project for the family or school fabrication class.
The chassis, drive train and running gear have been engineered to be rugged and dependable and come back wanting more
off-road adventure. And there's nothing like that classic monster truck look!
The Mini Monster Truck roll cage is designed to suit a child. It is not suited to an adult size
person over 140cm (4'7") tall. This ensures the roll cage provides protection for the driver in the event of a rollover.

SPECIFICATIONS:

Chassis: RHS floor with full tubular roll cage structure
Steering: Quick turn rack and pinion
Motor : 5 to 7.5 hp industrial motor with horizontal ¾" crankshaft
Transmission: Auto belt drive torque converter, then chain drive to solid rear axle
Suspension: No suspension, relies on 26" ATV balloon tyres
Brakes: Single hydraulic disc brake on rear axle
Front Wheels: 26x12x12" tyres on 12x10.5" rims
Rear Wheels: 26x12x12" tyres on 12x10.5" rims
Overall Length: 1980mm (78") (front of tyre to rear of body shell)
Overall Width: 1440mm (57") (outside of tyre to outside of tyre)
Overall Height: 1200mm (47") (ground to top of roof)
Track (front): 1110mm (44") (hub face to hub face)
Track (rear): 1110mm(44") (hub face to hub face)
Wheelbase: 1190mm (47")
Approx Weight: 140 kg (310 lb)
Ground Clearance: 380mm (15")
Top Speed: 60 kph (37 mph)
Acceleration: 0-50 kph (32 mph) in 6 seconds

My only concern is that the Creator of the plans are in Australia and if you want to purchase one of the Mini Truck Body they
sell for this build, well it's gonna cost you a bit of money to have it sent to the US.
Other than that the plans are great, i can see our members finding
the parts they need locally and creating one of these Mini Monster Trucks for their child.
If you visit the Website they are quoting the cost of the build to be about $3500 to $4000 Australian dollars, which converted,
would be $2664.24 to $3044.84 US dollars.
You can buy a copy of the plans from The Edge Products by going to this link:

The Mini Monster Truck Plan

The plans are available to download on eziplans.com as well as CD on Ebay.com. They will also be doing a printed version soon
which will be on eziplans.

Website Update:

The Link to the new website location for  The Mini Monster Truck Plans 

As of March 26, 2017.  The Mini Monster Truck Kits are available for shipping.
The cost of shipping the kit to the US from Australia is $745 Australian dollars or $568,76 US dollars +  the cost of the Kit $5,521.05
Fully welded rolling kitset, includes all parts ready to paint & assemble.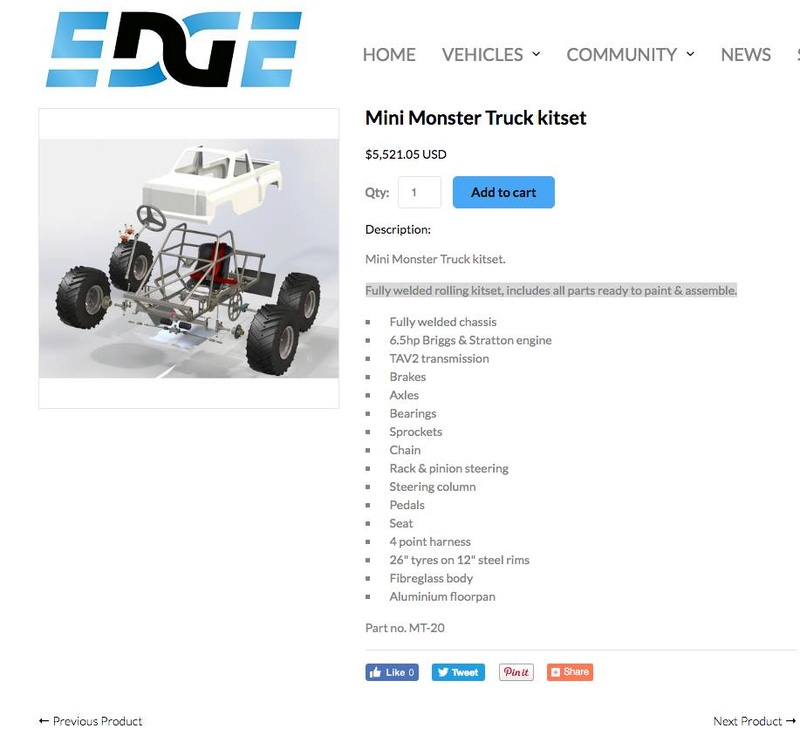 If you have purchased these plans, please post your experience and let others know how you made out with them.
Create an account or log in to leave a reply
You need to be a member in order to leave a reply.
Log in
Already have an account? No problem, log in here.
Log in
---
Permissions in this forum:
You
cannot
reply to topics in this forum